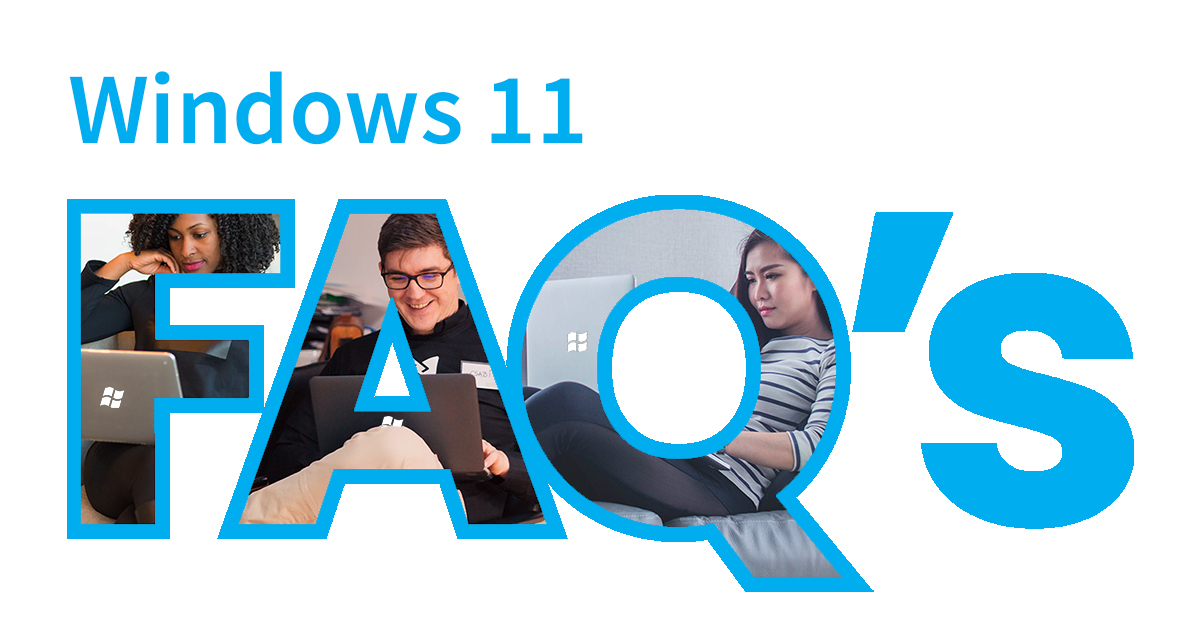 FAQ should answer questions about upgrading to Windows 11. An upgrade differs from an update in that it removes your PC from an earlier version of Windows, such as Windows 10 to Windows 11. An update ensures that you have the latest features and security improvements in your current version of the Windows operating system.
What are the benefits of Windows 11 over Windows 10?
Windows 11 offers new productivity features and functionality tailored to the challenges of a hybrid world. Windows 11 has a refreshed look and feel that will help you cope more with less stress. You can learn what else is new on Windows.com/Windows-11.
Can I upgrade for free?
Upgrading from Windows 11 to Windows 10 is free. Find out more about the new features at Windows.com / Windows 11. Upgrading to Windows 11 is free for everyone. Due to the size of the download, there may be an ISP fee if the download is made over a metered connection
When will Windows 11 be available for my current Windows 10 PC?
The upgrade rollout plan for Windows 11 has been completed. It is due to start at the end of 2021 and run until 2022. Specific times may vary for some devices. Windows 11 is available on my current Windows 10 PC. We will have more to share in the coming months. Find out which PC qualifies for the upgrade. To see if your PC is eligible to visit, download the PC Health Check app as soon as it becomes available. Windows 11 has been tested and validated on your specific computer and Windows Update shows that the upgrade is ready for installation.
How will I know if my PC qualifies for the upgrade?
If this is available, you can use the PC Health Check app to check if your PC is ready for upgrade. Download the Windows Health Check app here. There are no minimum hardware requirements for Windows 11.
Download the PC Health Check app.
What are the minimum hardware requirements for Windows 11?
https://www.microsoft.com/windows/windows-11-specifications
What will happen to my files during the upgrade?
We recommend that you back up all files before installing a new version of Windows. By default, files and data are automatically moved to the new installation. However, this can happen when my files are updated
For more info on getting started with OneDrive, see Upload and save files and folders to OneDrive.
Will Windows 11 work with my current accessories?
Most software accessories that work well under Windows 10 are expected to work under Windows 11. Check with your software manufacturer or accessory manufacturer for specific details about your product. How does Windows 11 work with my current accessory?
How long does it take to upgrade to Windows 11?
How long will the upgrade to Windows 11 take? Downloading and installing Windows 11 may take longer than a typical Windows 10 feature update. Timing may vary depending on Internet speed.
Can I move back to Windows 10 after I upgrade my Windows 10 PC if I don't like Windows 11?
If you are using your PC when you download it, you have the option to schedule the installation at a certain time, even if you do not plan to use your PC. Moving away from Windows 10 After upgrading to Windows 10 on a PC, not everyone will like Windows 11. If you upgrade to Windows 11, you have 10 days to leave Windows 10 and keep all the files and data you brought with you. During this time, you will need to back up all your data, perform a clean installation, and then switch back to Windows 10.